Buy to let rent rises are cooling as most places across the country have seen no change in the past two months or more.
Average rents were up 1.3% over the year to the end of June 2019, says the Office for National Statistics.
But the rate remains unchanged since May for England, while in wales, the rise was 1.1% annually, where the level has now settled since February 2019.
Property investors in London have seen rents increase by 0.9%, again the same rate as in May but still the biggest change since September 2017.
"Growth in private rental prices paid by tenants in the UK has generally slowed since the beginning of 2016, driven mainly by a slowdown in London over the same period," said an ONS spokesman.
"Rental growth has started to pick up since the end of 2018, driven by strengthening growth in London."
Rents are at a standstill for most regions of the country, continues the ONS report.
Landlords in the East Midlands have seen rent go up the most at 2.1%, followed by those in the South West, where rents climbed 2%.
The North East saw the slowest rent rises at 0.5%, followed by London.
The rates were the same as May in each of the four regions.
The ONS report does point out that since rent records started in January 2015, UK rents have increased by 7.7%.
A recent separate study by buy to let lender Kent Reliance suggests average UK rents are £896 a month, ranging from £1,723 in the capital to £390 in the North East.
Average rents – June 2019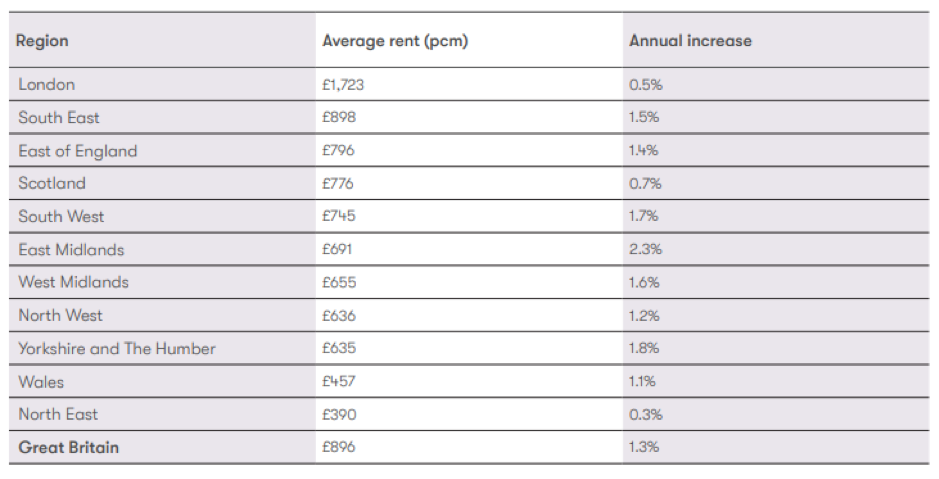 Source: Kent Reliance