Introduction
Older properties in particular can suffer from being cold even with gas central heating. From this, condensation and mould growth can become a problem which is often exasperated by the living habits of the occupiers. Often landlords will find when visiting properties that particular issues can seem to occur on north facing walls as these walls never get direct sunshine and often the wind and rain seems to affect these walls more than most. If the property is pre 1920, it will likely not have a cavity too which can make problems far worse.
One thing that can be done is to insulate the wall itself using what are officially called thermal laminate boards (but I've always called them styro-boards). These are basically plasterboards with polystyrene stuck to the back and are available in varying shapes and sizes.
They can be fastened to a wall by what are officially called thermal insulation fixings (but I have always known them as mushroom plugs because that's what they look like).
The primary advantages of this method is that the offending wall is being covered by boards so it doesn't really matter how rough the wall looks prior to installation. Also, because the boards can be fastened directly to the wall, installation is quick and easy (assuming you have an empty property though).
Cavity wall insulation
The first thing to consider when advising landlords on appropriate damp or cold issues is whether internal insulation is the appropriate installation or not. Where the property has a cavity then normally, cavity wall insulation will be the most cost effective solution because when outsourcing, it is a less labour intensive method of insulating buildings. Cavity wall insulation seems to be more available under energy improvement schemes such as Green Deal or warm-front because of its initial lower cost and good savings ratio.
However, internally cladding a wall or walls is suitable in addition to cavity wall insulation if the property requires extra thermal efficiency (particularly useful in basement conversions we find).
What are thermal laminate boards?
Thermal laminate boards are plaster boards with polystyrene attached to the reverse side. As a general rule, the boards are 2.4 meters high by 1.2 meters wide (around 8ft x 4ft) and the face is a normal plasterboard. On the rear is attached polystyrene of varying thicknesses and grades.
Commonly, the thickness of the whole board (including insulation) ranges from 22mm to 60mm depending on the insulation needs of the building. In addition, the insulation can be made up of varying degrees of thickness and compression ranging from basic expanded polystyrene to high thermal performance phenolic foam which also acts as a fire barrier.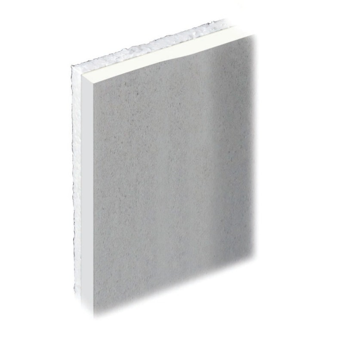 Fixing thermal laminate boards
The really good thing about thermal laminate boards is the ease of installation.
... Please
login
or
signup
to continue reading this content