Peer to peer property funders have drawn up a list of places with the best and worst buy to let returns for landlords.
Lendinvest matches cash from investors with buy to let borrowers as secured loans and mortgages.
Blackburn, Lancashire, tops the table as both the place with the biggest increase in gross rental yield in the year to July 2016 and the place with the cheapest average homes.
House prices average £95,000 while yields jumped 37.8% from 4.13% to 5.69%.
The worst place to buy a rental home is Durham, where house prices average £110,000 and where rental yields have collapsed from 7.09% a year ago to 4.67% this year.
The data analysis looks at rents listed on property site Zoopla and price information from the Land Registry across each postcode area in England and Wales.
Lendinvest CEO Christian Faes pointed out that all the top 10 buy to let hot spots had seen average yields increase by more than 10% in the year and the bottom 10 decline by more than 18% over 12 months.
"Savvy property investors won't only look out for which areas will offer the best returns right now, but are considering the best growth for the months and years to come,2 he said.

"That means spotting areas which will become more popular in the future.

"That may be due to improved transport links, for example those towns which are due to be on the new HS2 line, or those which are due to benefit from new infrastructure projects, which will bring additional employment into the region."
Top 10 buy to let hot spots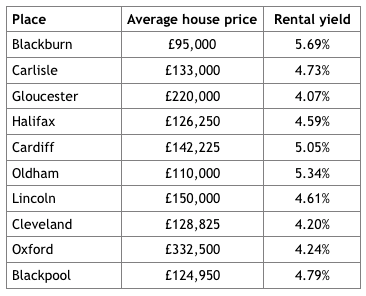 Source: Lendinvest July 2016