Buy to let rents are rising faster than wages in just three cities, an analysis by property portal Zoopla has revealed.
Tenants in Nottingham saw the largest increase – up 5.4% in a year, says the online property site.
Rents in Leeds and Bristol have also risen quicker than wages, with tenants paying 4.5% in both cities.
But despite these stellar rises, renting a home is more affordable for most tenants as more buy their first home and take the pressure of sky-high demand off the buy to let sector, read the web site's rent report for the third quarter of the year.
The average UK rent rise is 2% year-on-year, the Zoopla data disclosed.
Elsewhere, the collapse of the offshore oil and gas industry in the North Sea has seen rents drop by 4.1% in 12 months in Aberdeen.
Tenants in Coventry and Middlesbrough also paid less than a year earlier.
"Renting is more affordable today than the 10-year average. [An increase in] first-time buyers, 80% of whom exit the private renting sector to buy, has also moderated rental demand," said Richard Donnell, of Zoopla.
"Rental affordability varies widely across the country, reflecting the relative strength of local economies."
Homes take an average of 17 days to rent, based on the time between posting a listing and taking the property off the market. This is down two days from one year ago, when homes took 19 days to rent.
Tenants stay an average four years in a buy to let home.
Average rents for new tenancies (Q3 2019)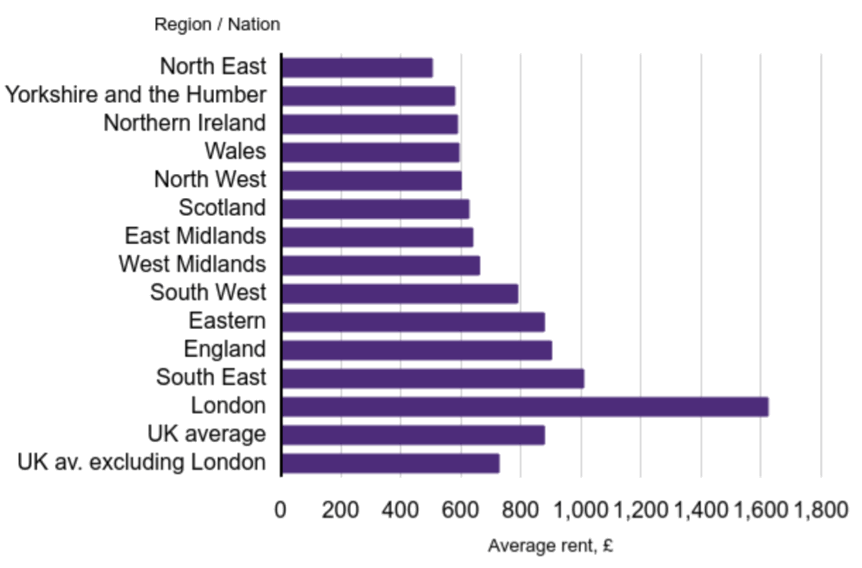 Source: Zoopla