The impact of the coronavirus pandemic on the rental market seems minimal, according to the latest official figures.
The Office for National Statistics says private tenants saw rents across the country rise by 1.5% in the year ending May 31 – the same rate as in April.
In financial terms, the increase means a tenant paying £500 a month rent in May 2019 has had their rent go up £7.50 a month by the end of May 2020.
However, the ONS confirms tenant demand and landlord instructions fell sharply during lockdown.
"These supply and demand pressures can take time to feed through to the index, which reflects price changes for all private rental properties, rather than only newly advertised rental properties," said the ONS Index of Private Housing Rental Prices (IPHRP) for May 2020.
Breaking down the figures, average annual rents were up 1.5% in England, 1.2% in Wales and 0.6% in Scotland.
In London, tenants paid 1.2% extra in the 12 months to May 31.
Excluding the capital, UK rents rose 1.6% over the year.
Since January 2015, when the ONS started the index, rents have increased by 9.2%.
The biggest annual rent rise was in the South West, where landlords saw a 2.5% jump – but that was marginally down from a 2.6% increase in April. The East Midlands also posted a 2.5% rise – up from 2.4% a month earlier.
The lowest increase was in the North East, where rents rose 0.8% year-on-year, followed by the North West, with a 1% rise.
The ONS data covers rent renewals as well as new tenancy agreements.
Regional buy to let rents May 2020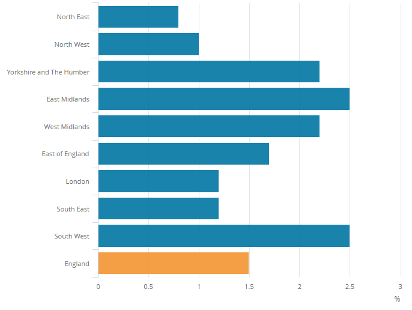 Source: ONS