Fewer buyers are purchasing homes with cash, according to new data.
As house prices have risen in recent years, the number of cash sales has dropped to a record low in the first half of 2019.
In the first six months of 2009, 36% of purchases were in cash, but this has fallen to 28% this year.
The research by property agents Hamptons International reveals cash sales have dropped in every region during the past two years – with the largest decreases in the West Midlands (-9%) and London (-7%).
The South West remained the region with the most cash sales in 2019, with 34% of homes going to cash buyers.
"The fall in cash purchases not only reflects tighter affordability, but also a decrease in activity amongst downsizers, the group of people most likely to have built up enough equity to purchase property with cash. It also reflects a fall in the number of homes bought by investors, many of whom used cash to purchase their properties." Said Aneisha Beveridge, head of research at the agents.
Meanwhile, UK Finance, the trade body for buy to let lenders, published data for September 2019 showing landlord home purchases were down 3.5% on a year ago, with 5,500 homes changing hands for £800 million – an amount down 11.5% from September 2018.
Remortgages held firm at 12,900 worth £2.2 billion – no change from a year ago.
Cash home sales 2007 – 2019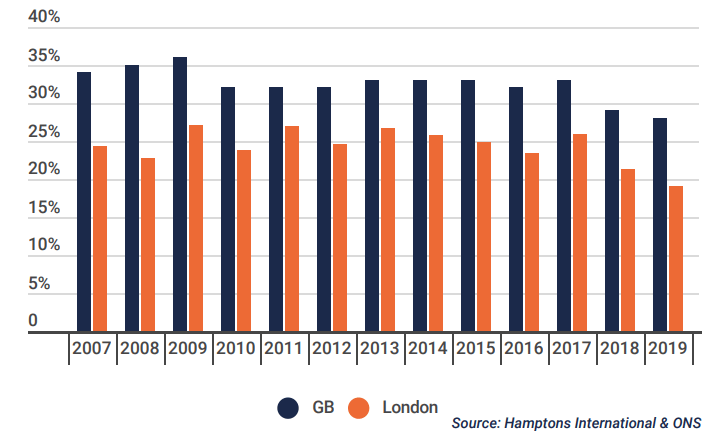 Buy to let mortgage data
Number of new loans
Value of lending (Millions)
Purchase
Remortgage
Purchase
Remortgage
Sep-18
       5,700
            12,900
£900
£2,200
Oct-18
       6,700
            16,600
£1,000
£2,700
Nov-18
       6,600
            15,800
£900
£2,600
Dec-18
       5,500
            13,000
£800
£2,100
Jan-19
       5,500
            15,800
£800
£2,600
Feb-19
       5,000
            14,700
£700
£2,400
Mar-19
       5,200
            13,500
£800
£2,200
Apr-19
       5,300
            14,600
£800
£2,400
May-19
       5,700
            15,300
£800
£2,500
Jun-19
       5,500
            12,800
£800
£2,100
Jul-19
       5,900
            15,300
£900
£2,500
Aug-19
       6,000
            13,900
£900
£2,300
Sep-19
       5,500
            12,900
£800
£2,200
Source: UK Finance