The number of homes rented out by corporate landlords has soured since the government announced scrapping mortgage interest relief for private landlords.
The new tax rules phased over recent years allow companies to claim mortgage interest relief as a property business expense, but only allow private landlords 20% tax relief from April 2020 regardless of the rate they pay income tax
The rule has cut mortgage interest relief each year and will eventually slash the tax break by half for higher rate taxpayers.
New data shows that 12% of all private rented homes were owned by companies in the six months to June 30 this year – around 641,500 properties.
The number is 42% higher than company owned lets in 2015 when the tax changes were announced by then Chancellor George Osborne.
However, the data from property firm Hamptons International also reveals the number of company landlords and homes they rent out has changed over the years.
Companies owned a larger share but smaller number of rented homes more than two decades ago before slumping to 9% of the market between 2014 and 2016.
Aneisha Beveridge, head of research at Hamptons International, said: "Around one in eight rental properties are now owned by private companies, an indication that the sector continues to professionalise. Increasing taxation for private landlords combined with the growth of the build to rent sector has meant that more companies are letting homes than at any time since our records began.
"London, where landlords tend to have higher levels of debt and often the most to gain from corporate ownership, has the largest proportion of homes let by a company. However, it's not always more profitable to put a buy-to-let into a company as other associated costs come into play."
Homes owned and rented out by company landlords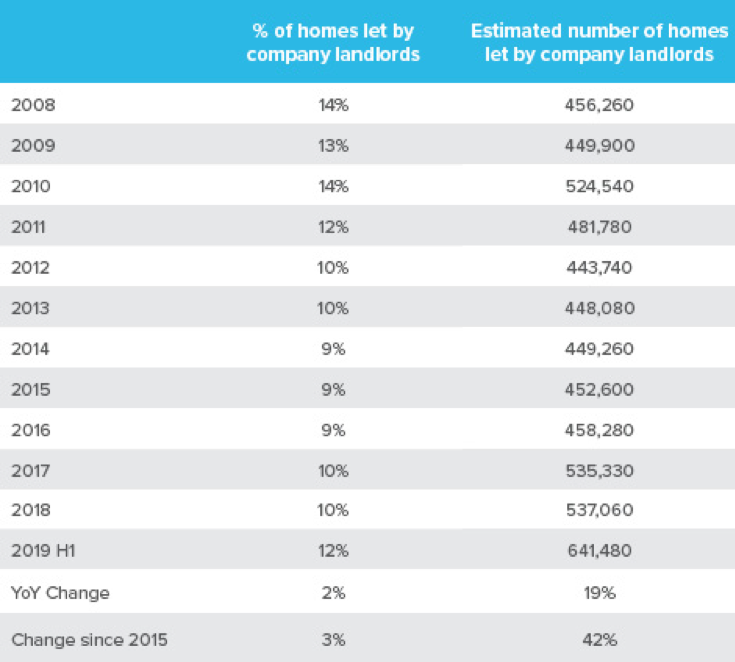 Source: Hamptons International